BATTLE: AERON CHAIR GAS CYLINDER REPLACEMENT Part 2
Posted On September 4, 2013
VICTORY! A rare and wonderful sight. We did not emerge unscathed – the chair bruised, our noble companion Ser Pipe of the Wrench – spine snapped like a twig… but victory was ours. Tell the noble tale!
I Shall!
If you haven't read about the first part of the battle... do so now!
Based on suggestions from YT, I laid down some DubD Forty. This video captures some of the Thrill. Be sure to put down a towel … that DubD is gonna drip through the plastic ring and onto the chair.
Then it was left to sit overnight. And today Ser Pipe of the Wrench Jr rode into the field.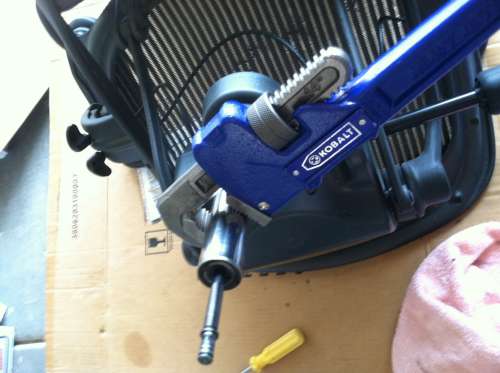 I then proceeded to slam The HammaR down upon Ser, over and over. Slivers of metal stripped off the Gas Cylinder, and Ser took a savage beating: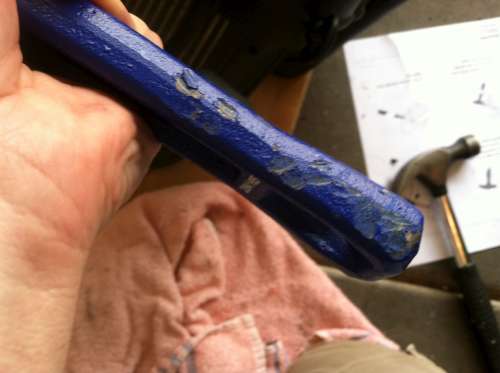 Every few hits, Ser Wrench would need to be reset, but after about 15 strikes, the Cylinder turned – it then just lifted right out. I wish I had filmed it – you really need to watch someone beat on that thing to appreciate how hard you are going to be hitting it. WARNING! lots of metal slivers around afterwards – I grabbed the base of the cylinder and got myself a handful of metal needles.
SCORE:
Project Completed: +20
Money Spent: +10
Fallen Allies: -5
Damaged Chair: -10
Time Taken: Too fucking long for what should have been a simple switch
Protip: I got a cheap gas cylinder on eBay – it isn't an exact match but it only cost me $30.00 shipped and works perfectly.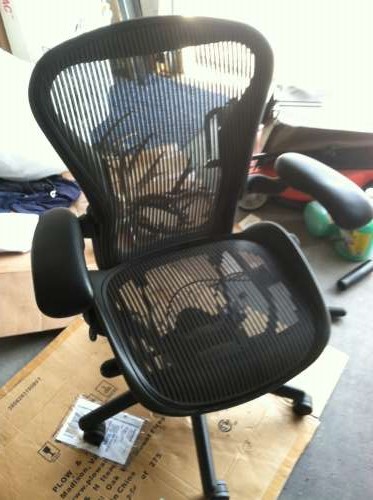 Now there is a chair that say "Look at me! I'm a 90's web developer!" and says it with authority.
From the comments….:
Thanks Larz – here is the video you linked!