BATTLE: BIKE BRAKES
Posted On June 2, 2013
god. dammit. I give up.
I've been trying to bleed my Juicy 3 brakes for .. well a long time. I think this is attempt #3.
My Bike has this pretty cool hydraulic brakes, much like a car: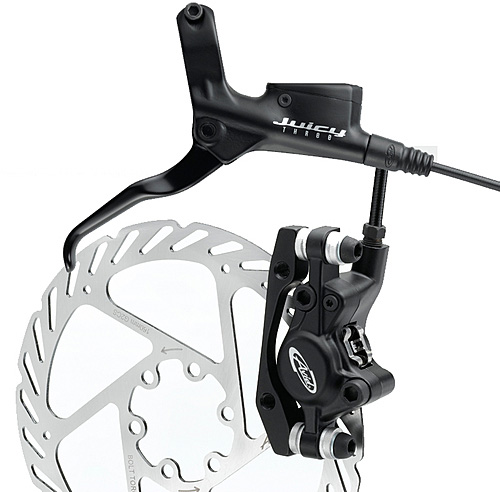 I took my bike out, after a period of storage, and found that the front brake was not releasing properly. In the past I have fixed this by taking the tire off, pressing the brake pads open, putting tire back in, and squeezing the brake lever. fixed.
This time, however, was not to be! Brake pads are not retracting fully, which drags on the tire. A bit of online research suggests I need to bleed my brakes. I order a bleed kit online  , wait a week, and then get to work!
I use this video as a guide:
have numerous problems. Cant seem to get past bleeding the caliper. Shit I've run into:
threads on my syringe don't want to match up with brakes – I think one thread is bent slightly, so it keeps popping out
try and suck air out, only to run out of room in the syringe
not having a real bike stand, so occasionally bike falls over on me, inducing rage
pressing brake fluid out of syringe, slow…slowly…TOO FAST and shit sprays everywhere
It's been about 3 times now, and I'm done. Hosed the area down ( water neutralizes the brake fluid, or washes it away or whatever ) and will go pay the bike shop to do it.
SCORE:
BRAKES NOT FIXED: -50
TIME SPENT ON PROJECT: -40
MONEY SPENT: -5
TIME NOT BIKING: -40
KNOWLEDGE GAINED: +30
FRUSTRATION LEVELS: -20
TOTAL: NEGATIVE FUCK THIS