BATTLE: WIPER HOSE! [ MKIV Golf Windshield Wiper Hose Replacement ]
Posted On May 13, 2014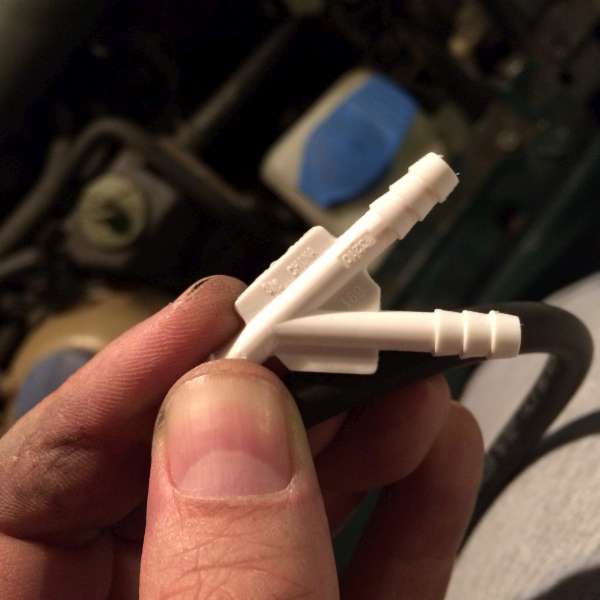 This one has been a long and drawn out battle. This is probably BATTLE FOUR, but I can't even remember when the first one was.
EXECUTOR SUMMARY: VW GOLF, WIPER FLUID NOT SPRAYING. REPLACED WIPER FLUID PUMP TO RESTORE PRESSURE. CLEANED OUT TUBES AND NOZZLES.  AGED PLASTIC TUBING AND FITTINGS ARE LEAKING FLUID AND NEED TO BE REPLACED.

FINAL BATTLE: FIX THE LEAK.
Right – so some shit was broken. fixed it. found more shit broken. fixed that. And at the end, while I have the nozzles spraying ( more like spurting ) water onto the windshield, the fluid is leaking. from where? well, pretty much everywhere. Because I was intimidated by the thought of replacing all those fixtures and hoses, I just electrical taped the shit out of everything. This did not work, and I now have the hypothesis that "Tape is only used for keeping things out, Not in." Words of wisdom that will surely grace my gravestone some day.
STEP ONE: PARTS
I struggled with this. There are any number of threads online that discuss this, for example:
When I did find threads discussing replacing all the hoses they basically went like this:
"Oh I just replaced it all with surgical tubing" or "I replaced it all with vacuum line, it's easy!"
Shit I wanted to know:
What diameter ( inner and outer ) tubing I should get
What fitments will I need, and again, what sizes
Where can I even buy the damn fitments
This culminated with me calling my local VW dealership, and asking about specs. They replied:
"Oh – that old corrugated plastic? Just replace it with Vacuum tubing!"
Yeah, so fuck it, right? Let's just go buy some shit and return what we don't use.
STEP TWO: TUBES AND FITS
I had hoped to follow this process:
Find out what I need
Order it
Wait to take car apart until parts arrive
That seemed sane to me. But with the lack of available info, I went with:
Open car
Break out parts
Cut pieces out that look important
Take them all to Auto place
Guy at Autoplace was really helpful. Pointed me to vacuum / wiper hose they had in the back. He cut me off a 2 inch piece so I could go find matching fitments. I guess I just got lucky because the tubing matched up perfectly with the pump I brought in. I tried to keep track of how many connectors / elbows / y splitters I would need – but ended up buying more than that. Annoying : I had to buy everything in "multipacks"  – so now I have 5 different Y-Splitters I don't need. but w/e, overall I spent $15.00.
STEP THREE: THE ONLY IMPORTANT PART OF THIS POST
Since I can't seem to find this shit on the internet, hopefully this hard info will be of use to someone else. In order to replace the cracked corrugated Windshield Wiper Fluid Hoses, I recommend purchasing :
Items you should purchase, because you will probably break them while taking them out:
Nozzles. You will break at least one of these fuckers while you learn to get them out. Besides they are probably clogged , or melted, or whatever.. and they are cheap. $6
ok, tomorrow, onto the doing stuff like this… replacing outdated / beat down / corrugated tubing with new flexible full of life and verve vacuum tubing.