Democrats for Donald Trump. How to worship our new King.
Posted On November 23, 2016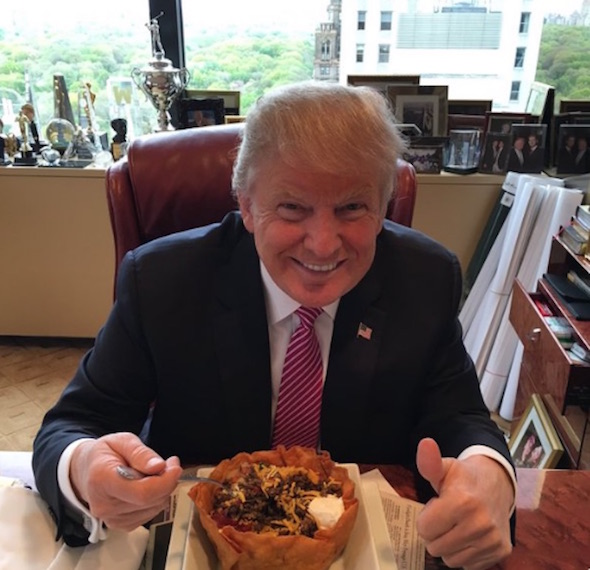 Watching the transition process has gotten me thinking about what is motivating Trump. Fame, perhaps and always money. Personally I believe he will struggle with the negative attention he will receive as president. He truly does lack the temperament for the job.
I don't believe he has a hard set political philosophy that guides him. As best I can tell Adoration and Profit are what moves him. I'm sure there is more, but that is what I have seen in the past. I've been wondering if if Donald Trump might not be a great vehicle for the liberals.
He has no loyalty to the GOP. Does he have loyalty to the people who elected him? I think it is telling that he reportedly wants to keep having rallies (!). What if the left could become his new cheering squad? What if we could give him the things he needs, and get our policies passed in return?
I have no doubt that Donald is corrupt – to the point that the only questions he might ask himself are "Is this legal" "Will I get caught" "How large the impact if I'm caught". I don't believe there are any ethical considerations of his. Well maybe "loyalty". He does seem to respect that.
So knowing he can be bought – how do we go about doing it. The money part is straightforward. Make our policies be profitable for Donald. The Adoration part.. would be more complicated, but perhaps a vocal "Democrats for Donald" that encouraged his liberal moves – just total Donald fandom and basically worship – like that of a king. I think if there were cheering groups of people outside his building, it would do more to get his attention. Sort of like positive attention for a child, vs Negative.
What if Obamacare could make him rich? What if a conservative Supreme Court would somehow hurt him?
I think that self interest is the fulcrum on which to shift him.