GoDaddy failed renewal. No payment method on file.
Posted On April 25, 2022
Another GoDaddy maze of tech support calls. Starting in April 2022, I began to receive payment failure notices when logged into the GoDaddy website. I checked my payment methods – I have two – and both looked fine. I manually renewed and assumed it was some kind of glitch. I continued to see this error: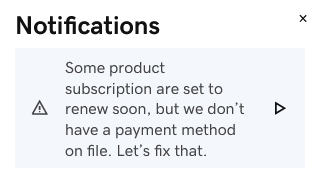 We can't renew domain because of a payment issue
A few days later, as my next domain came up for auto renewal I see this again
I double check my payment methods. They look fine to me. And I know they work because they have both been used earlier this month – on the 7th and the 4th on April.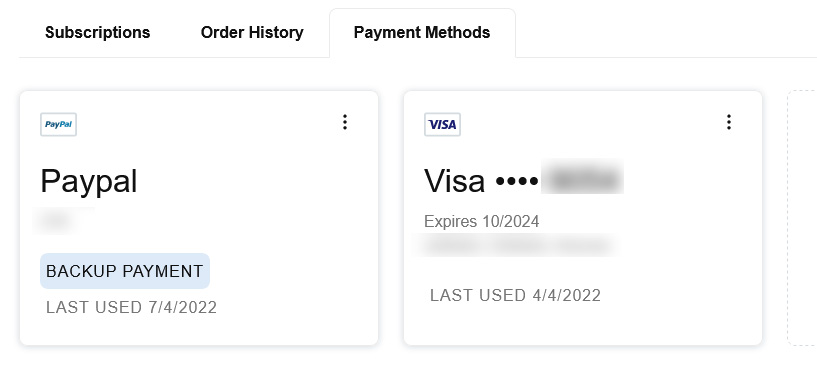 In which GoDaddy Support is less than useless
I spent an hour or so of back and forth with support. They assure me that my payment methods look good, and that I should just manually renew. I explain I have already done that, but this guy is sticking to the script. I ask him to be escalated, and he tells me he will raise the issue. I assume this means a ticket was opened – but it was not.
I pay for the domain manually, using the onfile payment methods, but I still see this error:
GoDaddy Known Issue
I'd like to take a moment here and point out that this isn't a regular tech support issue. This is a Billing Issue. I'm trying to give GoDaddy my money, and it isn't working properly. This seems like it would be a high priority with them. I'm not really surprised that a few days later we are back to:

So I get back with GoDaddy, and go through all the usual redundant crap. I'm told to manually renew, to update my credit card on file, blah blah blah. Because of how slow their chat responds, it eats up a lot of my time. To complicate things, I am unable to upload any images. I have to email them to support. I am told that I have no failed charges.

Looking back, I misunderstood something. This did NOT indicate that I had been successfully charged for the domain. He is showing me the content of my Shopping Cart, which AUTOMATICALLY adds any domains that are up for renewal.
This is where it gets interesting. GoDaddy CSR tells me that my domains are auto-renewing without problem, and I am seeing a technical glitch.

It took me over an hour just in this specific chat to get to this point. To find out that I've been wasting time on a "technical glitch…being faced by many customers". Are you fucking kidding me? Why wasn't I informed that their billing was fucked up? Why am I having to waste time on this shit all month? This is where I find out that no ticket was opened, nor could I open a ticket if I wanted to.


Why didn't support let me know?

Thanks fuckers. Ok, so I can just ignore this issue I think. This is April 23rd.
Domain was not renewed
On April 24th, I saw that my domain had NOT in fact been renewed. And I realized that I had not been charged, and was still receiving domain warnings from GoDaddy. I was upset at this point. Searching for "known issues" with GoDaddy didn't take me to anything useful. So decided I would call back Monday during business hours, and hopefully talk to someone in billing who might know what the fuck was going on.
Blame the victim
I've written about this any number of times, but GoDaddy really likes to tell me that I'm the problem. Couldn't possibly be an issue on their end, you know? Billing looks at my account and tells me first that my domain renewed successfully on the 24th and that BOTH my accounts are set as Backups, and this is causing the problem. wtf? So I look, and sure enough, the domain renewed yesterday without me doing anything. If I log out and log back in, the warnings are gone. I don't understand why both my payment methods are set as backup. I certainly didn't do that. And it certainly wasn't the case on April 13th ( see screenshot above ). It takes me a while to figure out what is really happening here, and where the bug is.
A warning on the godaddy website is not a warning that your domain will not renew, or that it failed renewal. It indicates some type of "issue" with a billing method.
If a domain DOES fail renewal, you will be sent an email message. These are the real warnings. Without one of these GoDaddy doesn't even see a problem. From support point of view, everything is auto-renewing fine.
Delete and Re-Add Payment Methods
I have deleted and re-added my payment methods. This has to be done by switching back and forth, since you always have to have 1 payment method enabled. So I deleted CC1, readded CC1, deleted PP1, then readded PP1. Finally I deleted the CC, since that is the one most likely to cause a problem with GoDaddy I assume. Still get warning. Add brand new CC. Still get warning. I guess we will see what happens next time I have a renewal.