Radiometer Electronics / RE: Technology / Confusing Dutch Company / Distortion Analyzer
Posted On May 7, 2017
This happened like a year ago, but I'm trying to get through my long ass list of projects. Most of them are small and trivial, and I hesitate to even post them here. Wow, you cut a cord, flipped the polarity and now your power supply is negative-center! Huzzah! I mean I was pretty proud of that, but yeah – not really "post worthy".
Oh, but this one is.
So I like to pretend I'm learning about audio electronics. I read some stuff, try and pick out the gist of it.. sort of like reading an abstract of a paper instead of the whole thing. About 2 years ago I decided I want to build speakers, or repair amps, or some stupid shit. Why? dunno. But it seemed like a cool hobby, with lots of smart people, and I desperately want to be smart.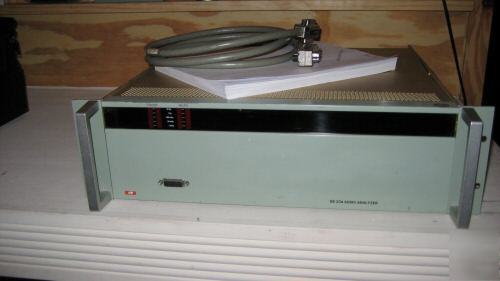 So while I bungle my way around an oscilloscope, and trying to trace circuits ( and failing mostly ) – I see this beauty on ebay: an RE:256 Distortion Analyzer. Distortion / Spectrum Analyzers aren't really important for basic audio electronics – but past a certain point they matter a whole lot. And the good ones remain expensive – vintage HP's are in the $500+ range. So when I saw this RE256 at like $150… I was excited. Now, do I need a distortion analyzer? well no. But it seemed like it would be great to have. For example, I could test the distortion on an amp, make some changes, and see if I had improved it or not.
Researching the re256 was not easy. I mean – look at the search terms here:
"RE"
"256"
"Distortion"
"Analyzer"
I seriously don't know how I got my first break, but I came across an audio forum talking about the RE204 Distortion Analyzer, and how it was super well made, and awesome. Hard to find, and replacement parts were non-existent. I don't know why, but it was like the hooks were in. Because if there is one thing better than owning a useful piece of equipment – it is owning a super rare, hard to find version. Well, you might say the latter impacts the former, and you'd be right! But the heart only knows what it wants. And I wanted it.
In my mind – the 256 was just a "better" version of the 204. I don't know why I thought that – but sadly, it is a common mistake i make. So of course I bid, and of course I won – and of course things went down hill from there.
The Monitor
So when it showed up, I was excited – and immediately disappointed. See, other analyzer like the hp 8903 have a digital display on it.


I thought I saw one on the RE256. I was wrong. I also quickly realized there aren't even any buttons on this fucking thing. It is just a big black box with some jacks on it. Well, no worries – I can plug in a monitor, and sure it needs an older 5pin keyboard, but no worries. I have adapters. Note the unrealistic optimism here, and the beginning of the Sunk Cost fallacy. This is an ongoing theme in my life, along with the "cut twice, forget to measure" thing. So I get my plugs and my monitors, and hook it all up, and nothing happens. No signal, etc. Now I'm not too worried, because I didn't buy this "as-is" this fucking thing is supposed to work. So I must be making a mistake here. So I started on a quest for a user manual.
The Search
I also relish a good "search". Fun to obsess about you know?:It took a while, but this is what I found out:
RE stands for "Radiometer Electronics" a dutch company. At some point it split in half with Audio on oneside, and medical tech on the other. The medical tech is still being made – the audio died out.
Parts are beyond impossible to find. There are a few replacement boards floating around on ebay – each priced $600+
Manuals are hard to find
I was able to find out some stuff about the RE204, and 500 series gear… but not much on the 256.
And then I had a breakthrough – look at this beauty.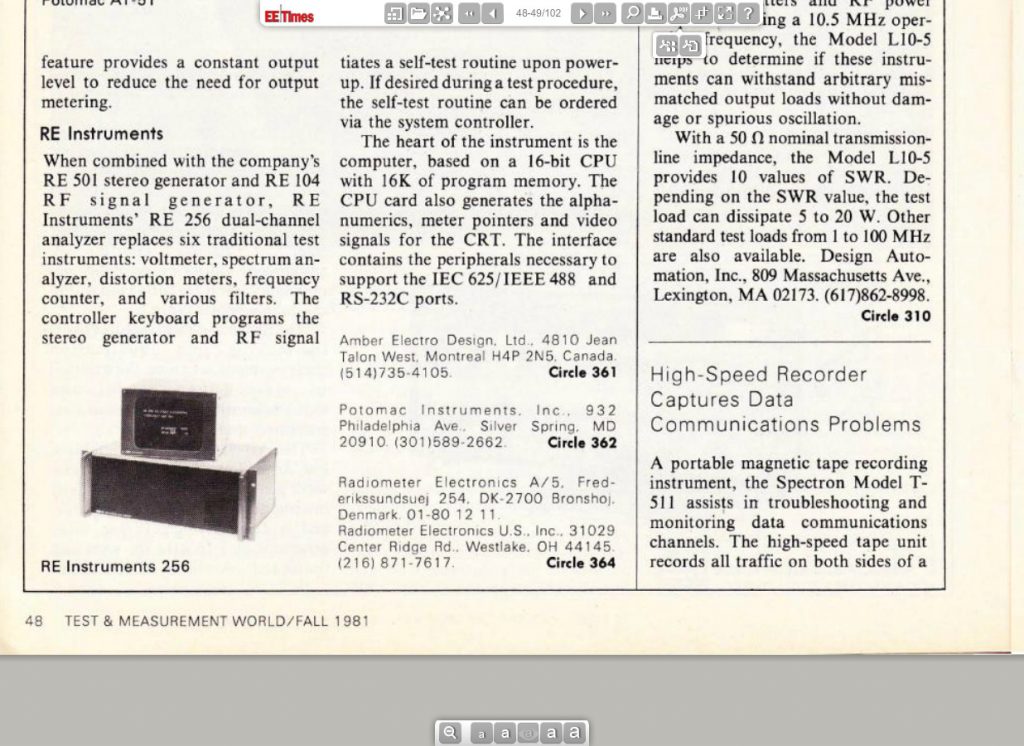 Thank you "Test & Measurement World" magazine! Look at all that shit it does! I'm excited again. In a short period of time I realize I need
Vintage monitor
Vintage keyboard
Programming manuals
So one of the many twists here is that the RE256 is designed as an automated tester – like I read about the RE204 (link) there is programming done in BASIC ( woo! ). But I'm hoping I can find the actual programs out there somewhere. I set this in the back of my head as I race to Goodwill.. surely they will have what I need. I come back with an old keyboard, some adapters, but no monitor.
As I try and read up on what kind of monitor I will actually need – I fall into a deep deep rabbit hole.
Next time: Scanlines.