Verizon data is throttled, and stuck in Safety Mode
Posted On October 15, 2021
Why does Verizon's customer service suck? I pay a premium for their service. Is there a more expensive phone service I can buy, where I can talk to a human? Dealing with Verizon this week felt like I had signed up for a 2010 Cricket Phone.
This week I received a notice that I had used up all of my high bandwidth data, and that I was being dropped into "Safety Mode". Safety Mode is a no-cost solution, where you get really slow internet, but it doesn't cost you any additional money for the month.

I went online to check – and saw my bill was 2 days overdue. I paid it, and then checked my data. I still had several GB left for the month. I attempted to understand what was going on by using the "chat" feature. This was not helpful. The response time was really bad, but I needed my highspeed access as I was traveling, and needed my phone as a hotspot.

Each response from a "live agent" took 5-10 minutes, and were not helpful. They did not seem to understand the problem I was having. It seemed that my data was being throttled, but Verizon website indicated I had data left. The last part of the exchange involved them asking me if I wanted to turn safety mode off. I don't want it "off", and that helped clarify that the "live agent" couldn't understand my problem. In addition – Verizon can't toggle the setting on or off – the user has to do it manually. It is worth noting that the Live Agent was unresponsive for at least an hour when I finally gave up.
The next day I called, and was able to be connected to a human. The process for this is really irritating:
Verizon Asks for your PIN. You cannot type it right away, you have to try and say it first. When this fails
Verizon Asks for your PIN, but now you can type it in.
Verizon wants to know why you are calling.
Verizon immediately txts you and tells you that responding is the fastest way to speak with someone
If you choose to hold, some music plays and
An Agent picks up the phone
It's not a big deal to do this once or twice, but after the 10th time you are ready to strangle someone. Why 10 times? I'll get there.
The Agent I spoke with was very friendly, and I explained my problem. That it seemed like my data was being throttled, but that I also had data remaining. She said that it did look like I was being throttled and using "Safety Mode" – but that she couldn't do anything about it – that I'd have to change it myself. I disconnected, and went online. Note: Trying to use the verizon website while on safety mode sucks.
If you look at the Safety Mode – you'll will notice something interesting. You can't actually disable it. You can disable it for NEXT MONTH, but not for the current month. It's like overdraft protection – you pay for the month. So by turning it off, I'm just turning off my ability to get cheap data WHEN i run out of high speed data. So what I want to have happen is … I want to stop using low speed data, and use the high speed data I clearly have. I still want to keep the safety data as a backup. I just don't want to use it now.
I call verizon back to help me understand the proper course of action. This is where the hell begins. Everytime I call, and choose to go on hold, the music loops for several minutes, and then I'm just disconnected.
After about 20 minutes of this calling waiting / calling waiting / when I do call back I'm just told they are closed. Meanwhile, I'm stuck with throttled data, even though I have GBs of high speed data left.
Because I have no other choice, I'm forced back to the "live chat" option. I find it is basically impossible to speak to anyone. I eventually just leave the chat window open. About an hour and a half later, I receive a text saying "we are waiting for your response". I was asleep at that point.
The following day, I attempted multiple times to contact verizon – I was routed to an endless hold over and over again.
Today, now that my vacation is over – I tried again. After 48 minutes of waiting to speak with someone, I started to write this post. I opened up a chat window from my desktop – which seems to work much better than using the phone. 15 minutes later, I explain my frustration and desire to speak with someone live about my problem.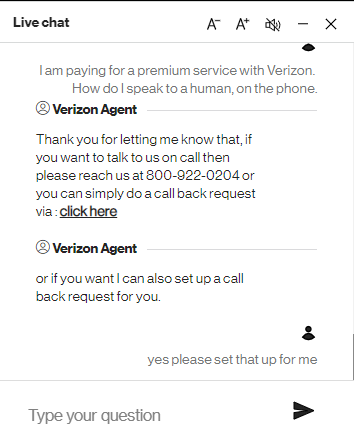 I didn't even know I could schedule a call.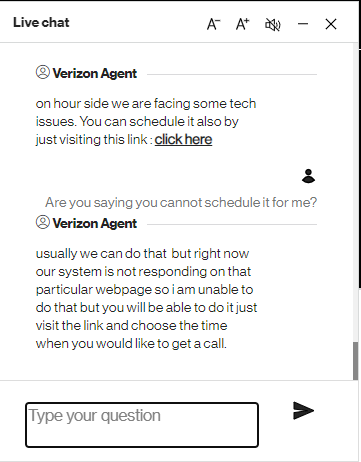 Oh right, guess they can't do that either. I try to get someone to call me back, but again – it's pushed to tomorrow.
Why is this so difficult? Is Verizon just looking for anyway to gouge more money from me? Is there a premium service I can buy so I don't have to spend HOURS dealing with a Verizon fuck up? I can't even threaten to change to another service provider.
So yeah, fuck verizon.