RE256 Part II: The Searching Continues
Posted On May 8, 2017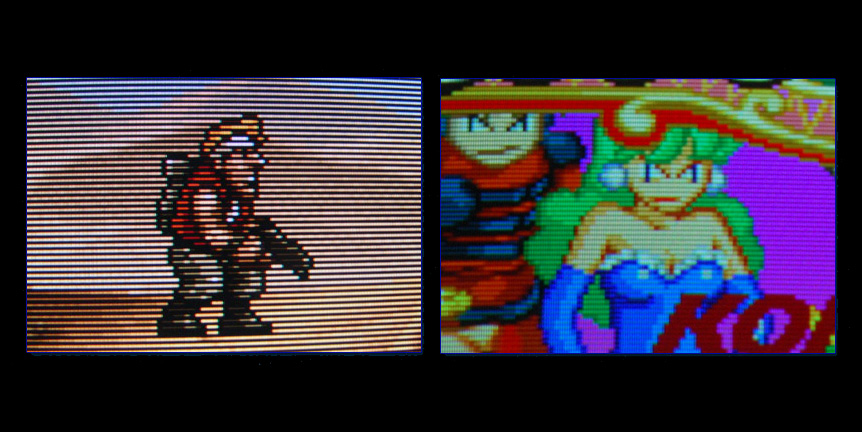 Continued from Part 1
SCANLINES
Modern monitors have a much higher refresh rate than in the old days, by a factor of 10. What I needed was something that could handle 15hz ( or so – I didn't know the exact refresh rate, since technical manuals are hard to find ). This is where I found a bunch of useful information from people who are into retrogames. If you are REALLY into old games like streetfighter for your NES you don't roll with some shitty "modern" LCD/LED screen. You go oldschool CRT, where the scanlines are the luxurious background texture of your nostaglia fix.
edit: WTF happened to my re256 links! Maybe I deleted them all in a rage fit or something, but man. I'm really missing that folder right now
OK, so I basically need a 80s era monitor, or one of the specialized NEC Multisync monitors. ( cool, now I know why it said Multisync on the side of my monitors all those years ago ). I'm also competing with people who want to run their old AppleII and need a monitor. Some of those old CRTs are literally selling for $500+ on ebay.
Now, the time is ticking on my ability to return this thing… so I need to know if it even works beyond powering on. I hook up my oscilloscope hoping I can see something useful.
I don't know why, but I was sort of hoping the CRT would just.. magically work and I'd see text. (It isn't that easy… you can watch this video if interested in converting your oscope to a monitor..) Instead I get this.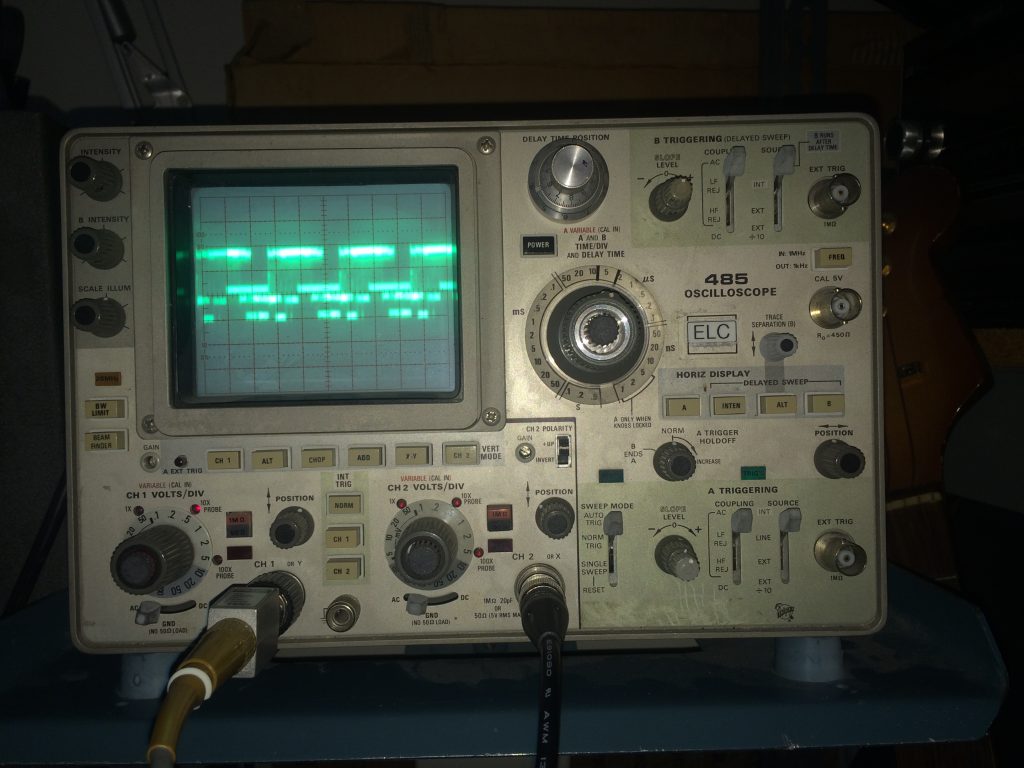 This is encouraging, since that looks like a waveform – though I have no idea wtf it means. However, the top looks like a TTL signal ( I think? )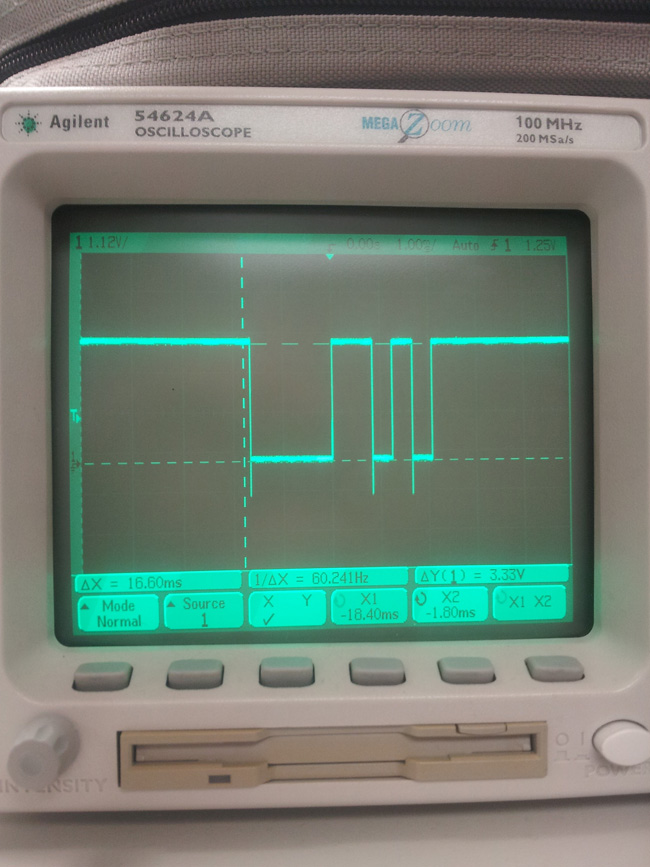 and the rest seems like a composite video signal.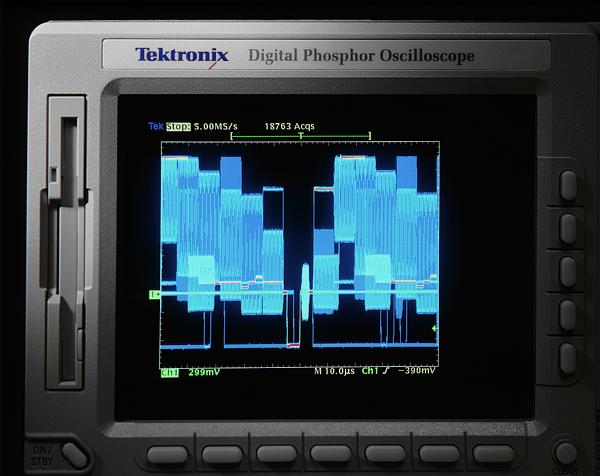 Not sure what to make of it… but at least the RE256 is putting out something on the video channel.
Well – shopping / hunting for old computer shit is my idea of fun, so I'm going to put this on slow burn and wait for a monitor to show up.
HOW TO USE THE RE256
So I've realized at this point that using this block of metal is going to be a challenge. The more I know about it, the better I can fix it, and how fucked up is that I'm trying to fix a piece of gear that I know next to nothing about, so I can then maybe learn how to use it. Why not just dump it? I wish I knew, and I wish I had. But at this point I have a fantasy in my head of fixing this, and having this awesome distortion analyzer and I'm like already a "RADIOMETER ELECTRONICS" fanboy. They are my BRAND motherfucker.
I'm hurting to recount this because I am missing a folder of 20+ solid links, including discussion of these products on audioforums. But one of the terrifying things I came across was this review of the 201 Audio Analyzer. I take that back there are several terrifying things going on here:
IEEE controlled interface, using a custom piece of hardware. RE901 Keyboard with 16 push buttons. This means I probably can't just hook in some keyboard. I'll need to find a way to send specific commands to the RE256. No idea if there is a command-line feature, but assume (! ) there is.
"The Tape test program does a comprehensive evaluation including.. " Tape based? Fuck. Odds of acquiring original software just plummeted. There must be hard copies of that stuff somewhere though maybe in a manual
"The length of these programs give some idea of the time required to program the RE201 – the tape and tape recorder program consisting of 3229 lines of BASIC and the REPLOT program which simply allows plotting of functions occupies 2400 lines of BASIC".. haha ha. yeah I'm completely fucked here. Even if I get this POS working, I'll have nothing I can do with it.
Not Terrifying, but useful info gleaned:
Monitor is not RGB ( not surprising ) but rather TTL
RS232 interface for printing results
Overall a pretty bad-ass piece of machinery
BUYING SHIT
When you can't do … buy! I think this is probably great advice for business acquisition or something. For me it means I can obsess about gear, instead of learning how to use it. Well I guess I'm buying this gear SO I can learn to use my other gear – but same basic shit. After another week or so of hunting I have acquired: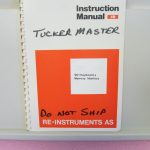 Manuals for the RE901 keyboard, the RE201, and some other RE audio gear. Some of them are programmable, so I hope that their chapters on IEEE interface will contain something useful.
Practically NIB IBM 5150 monitor. I probably should have just stuck with a smaller TTL security monitor or something, but this showed up on CL, and only had to drive an hour to get it. And I'm always hoping I can sell this shit at a later date. Plus, you know. It's cool vintage computer shit. Oh it came with a keyboard – which are also in demand for gaming.
Cont…
update: August: no update. Monitor is sitting in a box in the garage. Listed keyboard for a stupid price online, just to see if anyone bites. I guess I could probably just check real quick to see if I get a signal from the RE256 on the Monitor. But you know – lots of other stuff going on.